| | |
| --- | --- |
| | Arab League |
The Arab League or League of Arab States is an organization of predominately Arab states (compare Arab world). Headquartered in Cairo, Egypt, (http://Arableagueonline.org) the League's charter states that the League shall co-ordinate economic affairs, including commercial relations; communications; cultural affairs; nationality, passports, and visas; social affairs; and health affairs. The Charter of the Arab League also forbids member states from resorting to force against each other.
Seven states political alliance formed the Arab League on March 22, 1945 (Alexandria Protocol),
defining its main goals as to: Serve the common good of all Arab countries, ensure better conditions for all Arab countries, guarantee the future of all Arab countries and fulfill the hopes and expectations of all Arab countries namely:
Algeria, Bahrain, Comoros, Djibouti, Egypt, Iraq, Jordan, Kuwait, Lebanon, Libya, Mauritania, Morocco, Oman, Palestine, Qatar, Saudi Arabia, Somalia, Sudan, Syria, Tunisia, United Arab Emirates and Yemen Republic. (Map of Arab League states in dark grey with non-Arab areas in light grey and Somalia and Djibouti in medium grey due to their Arab League membership but non-Arab population).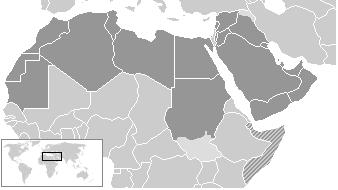 The Arab League resembles the Organization of American States, the Council of Europe, and the African Union, in that it has primarily political aims; one can regard each of these organizations as a regional version of the United Nations.
However, its membership is based on culture rather than geographical location (which is the basis for membership of the other organizations cited above). In this respect the Arab League may bring to mind organizations such as the Latin Union or the Nordic Council.
The Arab League differs notably from some other regional organizations such as the European Union, in that it has not achieved any significant degree of regional integration and the organization itself has no direct relations with the citizens of its member states.
All Arab League members are also members of the Organization of the Islamic Conference. In turn, the memberships of the smaller GCC and Arab Maghreb Union organizations are subsets of that of the Arab League.

Copyright © 2007 - 2022 ARABCCI, All rights reserved | جميع الحقوق محفوظة | 不得轉載 | Disclaimer | Site Map